---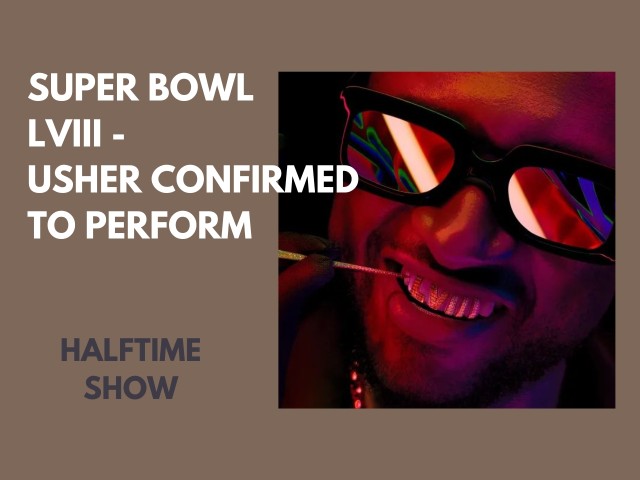 Apple Music's Spatial Audio brings you Usher's iconic show at the 2024 Super Bowl Halftime. "It's an honor of a lifetime to finally check a Super Bowl performance off my bucket list."


Las Vegas, NV - In a sensational announcement, Apple Music, the NFL, and Roc Nation have unveiled that Usher will be the headlining performer at the highly anticipated 2024 Super Bowl Halftime Show. The epic showdown is set to take place at the prestigious Allegiant Stadium in Las Vegas, NV, on Sunday, February 11, 2024, and will be broadcasted live on CBS. The news was shared with fervor across various social media platforms by Apple Music, the NFL, Roc Nation, and the iconic Usher himself, who received the gig offer in a memorable video call from the ever-popular Kim Kardashian.
Usher follows in the footsteps of the extraordinary Rihanna, who wowed audiences at the 2023 halftime show, even while being pregnant, and the star-studded 2022 all-star ensemble, featuring Dr. Dre, Kendrick Lamar, Mary J. Blige, Snoop Dogg, Eminem, and 50 Cent.
Expressing his excitement, Usher remarked, "It's an honor of a lifetime to finally check a Super Bowl performance off my bucket list. I can't wait to bring the world a show unlike anything else they've seen from me before. Thank you to the fans and everyone who made this opportunity happen. I'll see you real soon."
Apple Music is also gearing up to make this Halftime Show one for the ages. Oliver Schusser, Apple's Vice President of Apple Music, Apple TV+, Sports, and Beats, declared, "The Apple Music Super Bowl Halftime Show is one of the most highly anticipated music events of the year, and we're excited to bring this legendary show to fans all over the world in Spatial Audio, along with tons of exclusive videos, interviews, playlists, and so much more across Apple Music. We are so proud of what we were able to accomplish together with the NFL and Roc Nation last year, and now with the insanely talented Usher set to take the stage, we're looking forward to another incredible Halftime Show from one of the world's all-time greatest performers."
Usher's journey to superstardom began when he was first discovered on Star Search two decades ago. Since then, he has solidified his position as one of the best-selling artists in American music history, boasting over 80 million album sales worldwide and clinching eight Grammy awards. His chart-topping success includes an impressive tally of nine Hot 100 No. 1 hits and 18 Hot 100 Top 10 singles, making him a true luminary in the music industry.
RELATED NEWS
BROWSE FOR MORE