---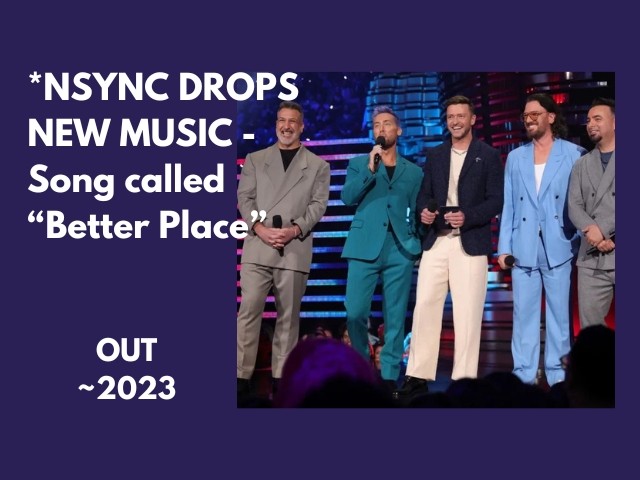 The iconic pop boyband *NSYNC have confirmed they reunited for a brand new music release, a song called "Better Place" that features on the Soundtrack for Trolls movie. This marks their first new song in over 20 years!


In an electrifying return to the music scene, the iconic boyband *NSYNC, featuring Justin Timberlake, Chris Kirkpatrick, JC Chasez, Joey Fatone, and Lance Bass, has announced their first new song in over 20 years, titled 'Better Place.'
The momentous announcement took place at the 2023 MTV Video Music Awards (VMAs) on Tuesday, September 12, when the quintet reunited to present Taylor Swift with a prestigious award. This reunion comes hot on the heels of their cryptic comeback campaign, initiated through posters promoting the upcoming Trolls movie, 'Trolls Band Together.' These posters prominently featured the unmistakable *NSYNC logo, along with a QR code that led fans to a dedicated website containing an enticing snippet of the band's new music. Now, that same webpage has confirmed that Better Place is set to drop on Friday, September 29. A tantalizing preview of the upcoming single can be experienced here:
In an exciting twist, 'Better Place' has already made its mark by featuring in the official trailer for 'Trolls Band Together,' adding to the buzz surrounding its release.
The group had strategically teased this announcement through their social media platforms, delighting fans by reenacting a classic scene from the TV series 'Friends' in which Joey and Rachel discuss a secret within the group. This latest release marks a monumental moment in the boyband's history, as it's their first new material since 2002. After their initial hiatus, Justin Timberlake embarked on a highly successful solo career in 2002, officially leading to *NSYNC's separation in 2007.
Prior to their stunning comeback at this year's VMAs, the band had briefly reunited in 2013 at the same event before regrouping once more for the unveiling of their star on the Hollywood Walk of Fame in 2018.
At the 2023 VMAs, *NSYNC made a triumphant return by presenting Taylor Swift with the Best Pop award. Taylor, a self-proclaimed *NSYNC fan, could barely contain her excitement, exclaiming
"I had your dolls. Are you doing something? What's gonna happen now? They're gonna do something, and I need to know what it is. You guys are pop personified, so to receive this from your golden pop hands is… it's too much."
The world eagerly awaits the much-anticipated release of 'Better Place' as *NSYNC prepares to reclaim their spot in the pop music pantheon. Stay tuned for what promises to be a remarkable comeback from these pop legends.
RELATED NEWS
BROWSE FOR MORE