---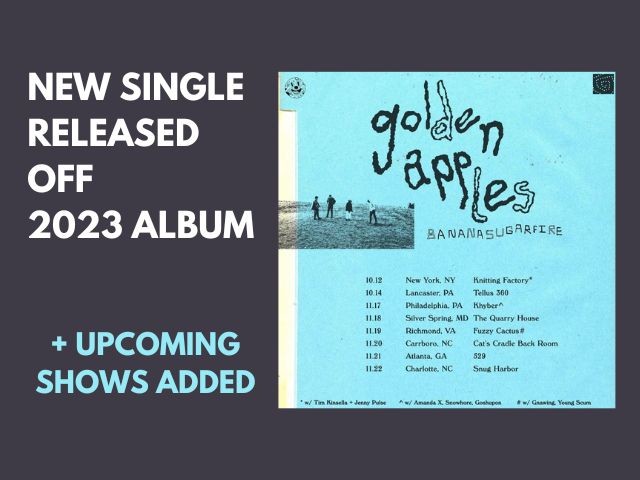 Also grab the dates for their upcoming shows in the US. More dates are set to be added, but you can now get tickets for their November shows.


Philly pop-rock band Golden Apples recently shared a new single "Park (Rye)", but also details about their upcoming shows in the US. This song is their second taste of the new project, after their September release "Waiting For A Cloud."
The band is ready to release the new album "Bananasugarfire" on October 27, 2023. The project includes a number of 10 tracks, that promise to be just what an indie rock album can be: fun yet fulfilling, inventive yet inviting, confident yet candid–music that lifts you up with melody, noise, and heart. "Bananasugarfire" album track list added below:
Anti-Ant Car

Guard Stick

Little Bronco

Waiting For A Cloud

Sugarfire

Krill

Materia

Park (Rye)

Stuck

Green
"Park (Rye)," is a sweeping and wistful midtempo track that feels like it could soundtrack a really great montage Frontman Russell Edling shared this statement on the song:
This song creates a world where memories and impressions of both positivity and negativity blend in a swirl of melody and image. Everyday there is more than enough reason to drown in your own gloom, but there is also immense strength and resilience to be found. Friendship and love appear as beacons to draw us out of our struggles, even if only for a moment.
For the upcoming shows in the U.S, Golden Apples will be joined by other artists such as Tim Kinsella, Jenny Pulse, Amanda X, Young Scum, Gnawing, Monsoon and more.
Golden Apples' upcoming shows in the U.S. here:
10.12 New York, NY at The Knitting Factory ^
10.14 Lancaster, PA at Tellus360
11.17 Philadelphia, PA at Khyber Pass Pub +
11.18 Washington, DC at Quarry House Tavern
11.19 Richmond, VA at Fuzzy Cactus *
11.20 Carrboro, NC at Cat's Cradle Back Room
11.21 Atlanta, GA at 539 %
11.22 Charlotte, NC at Snug Harbor #
^ w/ Tim Kinsella and Jenny Pulse
+ w/ Amanda X, Snowhore, Goshupon
* w/ Young Scum, Gnawing
% w/ Thousandaire, Ultra Lights
# w/ Monsoon
RELATED NEWS
BROWSE FOR MORE