---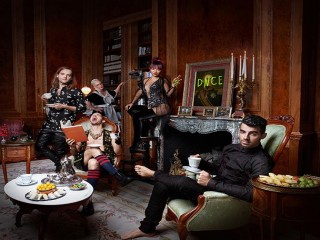 After rocking some sexy poses with the Victoria's Secret Angels, Joe Jonas has premiered the video clip supporting Body Moves single.


Joe Jonas and the his DNCE's band mates have premiered the video clip supporting their latest single Body Moves, and, as expected, it's filled with hot scenes with young boys and girls (almost naked) dancing and making out.
Directed by Hannah Lux Davis and produced byAngela Gregory, the music video was filmed in Los Angeles on September 22nd and you can watch it below:
DNCE's self-titled debut album comes out November 18th (though originally was slated for summer release). DNCE worked in superstar producer Max Martin's studio in Los Angeles while completing the album. "I think there's this beach vibe to the album and overall good vibes, good feelings. It's not too emotional or heavy," Jonas teased in an interview with EW last month. "There are songs like that here and there but the core of it is pretty loose."
Body Moves also rocks a sexy video featuring the Victoria's Secret models as part of their bralettes & sexy little things collection ad campaign. You can also see it here:
RELATED NEWS
BROWSE FOR MORE