---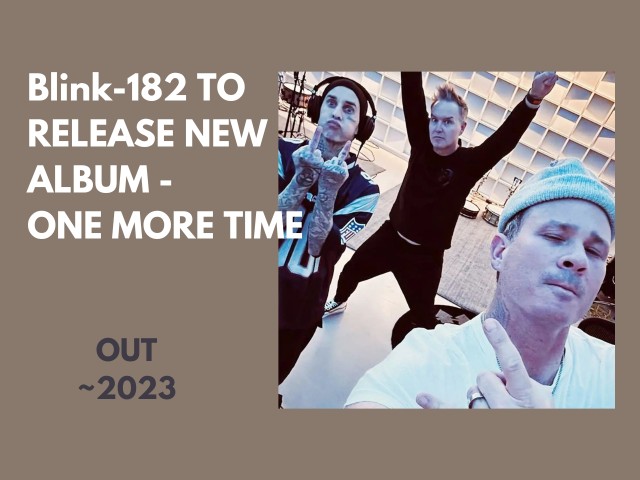 Here's a look inside their upcoming album, a record set to make a resounding comeback with their first collaborative album since 2011.


Blink-182 enthusiasts, mark your calendars! The iconic trio, comprising Mark Hoppus, Tom DeLonge, and Travis Barker, is set to make a resounding comeback with their first collaborative album since 2011. Titled "One More Time…," this highly-anticipated musical endeavor is slated to drop on October 20, courtesy of Columbia Records. The excitement doesn't end there; the title track single is scheduled for release this Thursday, September 21, at 10 a.m. Eastern.
The album's teaser trailer provides a poignant glimpse into the band's journey, highlighting the heart-wrenching circumstances that led to their reunion. Travis Barker, in the trailer, reflects on the album's title track, stating, "On the album, 'One More Time' is written about 'why does it take these catastrophes like me being in a plane crash or Mark being sick for our band to get back together.'" Tom DeLonge chimes in, emphasizing the significance of the lyrics: "Coming out with these words, 'One More Time,' it's like, 'Hey, this is the last time we're going to f**k this up.'"
Taking on the role of producer for "One More Time…," Travis Barker has masterfully steered the album's creative direction. This new musical offering follows Blink-182's previous two albums with guitarist Matt Skiba, namely 2016's "California" and 2019's "Nine." In a remarkable comeback, the classic lineup graced the stage as surprise guests at Coachella back in April, headlining the second weekend following Frank Ocean's withdrawal. This reunion marked the classic lineup's first live performance since 2015 and followed their October 2022 return with the single "Edging."
The journey leading up to this highly-anticipated release was not without its share of challenges. Blink-182 had originally planned to tour South America a month earlier but postponed the dates due to Barker's injury, which necessitated finger surgery. More recently, the band had to postpone tour dates due to a family matter – Barker's wife, Kourtney Kardashian, underwent surgery. Fortunately, Barker has since rejoined the tour, reassuring fans of their commitment.
Hints of something new from Blink-182 emerged earlier this month when a cryptic video and posters surfaced, directing fans to the band's website. Upon visiting the website, a digital clock flashed the time 9:21, aligning perfectly with today's date.
With "One More Time…" on the horizon, Blink-182 fans worldwide eagerly anticipate the triumphant return of the iconic trio and their signature blend of music that has captured hearts for generations. Stay tuned for more updates as the release date draws near, and get ready to embark on a musical journey with Blink-182 like "One More Time…"!
"One More Time…" Album Tracklist:
01 Anthem Part 3
02 Dance With Me
03 Fell in Love
04 Terrified
05 One More Time
06 More Than You Know
07 Turn This Off!
08 When We Were Young
09 Edging
10 You Don't Know What You've Got
11 Blink Wave
12 Bad News
13 Hurt (Interlude)
14 Turpentine
15 Fuck Face
16 Other Side
17 Childhood
RELATED NEWS
BROWSE FOR MORE